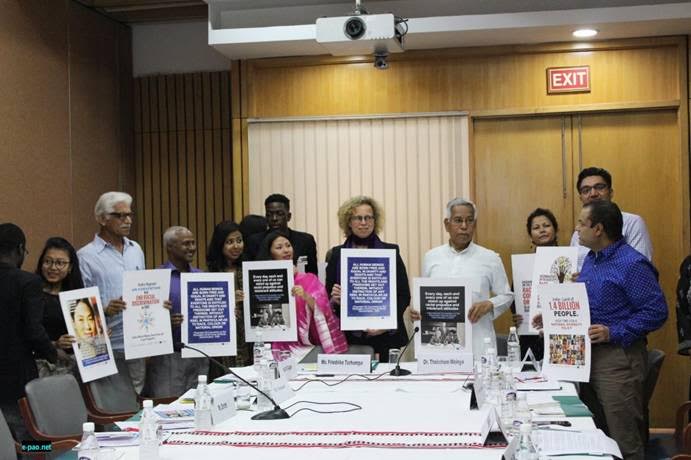 Commemorating International Day to End Racial Discrimination at New Delhi on 21st March 2018
A participatory discussion on race, ethnicity, diversity and culture in India was organized by the Control Arms Foundation of India (CAFI), Manipur Women Gun Survivors Network (MWGSN), National Coalition on Gender and Race in collaboration with Multiple Action Research Group (MARG). The event took place in order commemorate the International Day to End Racism i.e. 21st March 2018.
The event which was titled '50 Years After Ratifying ICERD (International Convention on Elimination of All Forms of Racial Discrimination): A Forgotten Promise' took place in at the India International Centre, New Delhi, from 2pm to 5pm. The organizers sought to set up a platform to deepen research on the understanding of racial discrimination; to develop innovative strategies to combat this heinous discrimination and advocate for policy change.
The International Day to End Racism marks a call to action for accelerating racial parity. Racism in India is still a wide-ranging problem and the organizers wished to highlight the multiple incidents of racism suffered by minorities in a country like India, which is supposed to be diverse and tolerant. The discussion highlighted past and current struggles for racial equality and called for national action to be undertaken in order to formally end racism as ratified by India in the ICERD.
The event started with an inaugural statement issued by Ms Binalakshmi Nepram, Secretary General of Control Arms Foundation of India, who insisted that India must do more to combat racism. She said, "It was surprising, when we started this project and work, to know that in spite 70 years of independent India, we do not have a National Diversity Policy. It is time we make this happen."
Chief Guest Dr Thokchom Meinya said, "We have to agree we have not done enough to combat racism."
Ms. Anju Talukdar, Director of Multiple Action Research Group said, "Racial Discrimination happens in India all the time, to Indians by the Indians. We need to ensure that such discrimination becomes part of the public discourse that could lead to an anti- racial law in India in order to fullfill the promise of CERD ratification."
Six posters on the issue of Racial Discrimination were formally launched by Chief Guest Dr Thokchom Meinya, Member of Parliament and by Guest of Honour, Ms Friederike Tschampa, Head of Political Affairs, European Union.
The inaugural panel discussion was then followed by two technical sessions titled, Inputs for 'Developing a National Action Plan Against Racial Discrimination in India and 'Forging A Way Ahead: Collating Inputs and Framing Action Points.'
These sessions were steered by CAFI and MARG and sought to brainstorm on ways to practically apply and implement policies that would mitigate the widespread discrimination faced by North-Eastern individuals and individuals belonging to other racial minorities in India.
This event saw participation from different communities and background recognizing racial discrimination as a serious problem in the country. The program then concluded with a vote of thanks followed by tea.
The day was also commemorated by our partners in the other project areas of Assam by CARDS (Char and Rural Development Society), Manipur by Manipur Women Gun Survivors Network and Meghalaya by Shamakami.
Source: E-PAO